Catherine Atzen®  – French Cosmeceuticals
BIOLOGIQUE
Skin balancing concept/Biological line for all skin types
Make-Up Removal Lotion/Cleanser: A gentle, water-soluble lotion to clean and remove surface impurities and/or make-up. $59 • 3.4 oz.
Tonic Lotion: A refreshing alcohol-free toner rich in lime blossom and hydrating factors to soothe and soften the skin and tighten pores. $47 • 3.4 oz.
Biological Cleanser With Exfoliating Grains: A very gentle, light and creamy scrub, which effectively exfoliates the dead skin cells while soothing and nourishing your skin with natural plant extracts. $46 • 8.5 oz.
Biological Modeling Mask: A gentle clay-based mask which nourishes, clarifies and rehydrates your skin and tightens pores. It creates a visible "face-lift" effect for tired-looking skin. $46 • 8.5 oz.
Biological Day Cream: An all-day moisturizer formulated to restore the natural balance of your skin, reduce the visible signs of aging due to our polluted environment, and provide a smooth, satiny glow to your face. It is the ideal base for make-up. $61 • 8.5 oz.
Biological Night Cream: A powerful blend of the highest concentration of selected natural ingredients to bring intense nourishment and deep penetrating hydration to the skin all night long. $78 • 8.5 oz.
Biological Gel For Eye An Lip Area: Substantially diminishes the appearance of the tiny wrinkles and lines around the eye and lip areas, adding moisture & nutrients. $49 •4.25 oz.
Biological Neck Cream: A very light cream to nourish the delicate skin tissues, and diminish the visible signs of aging on the neck and neckline. $56 • 8.5 oz.
Intensive Treatment: Biological extracts of integral DNA®. An effective, powerful 12 or 14 day regimen to restore the appearance of natural, young looking skin and an even skin tone. (6) 5ml • $99 / (12) 5ml • $170
Advanced Bio-Active Complex SPF6: The perfect balance of science and nature for your skin. This light, easy-to-use emulsion substantially diminishes the visible signs of premature aging and provides a refreshing glow and youthful resillience. $82 • 4.25 oz.
Ultra-Moisturizing Sun Block For Face SPF 15 & SPF 30 (UVA, UVB UVC And IR): This soothing, non-oily and opaque cream forms an invisible matte finish mask to protect from damage associated with exposure to sun, pollution, and stress.  SPF15 – $50 • 4.25 oz. / SPF30 – $50 • 4.25 oz.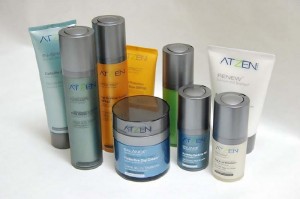 BIOLOGIQUE BODY
Body/Massage Lotion: This selection of powerful plant and marine extracts helps to protect, hydrate,and soothe the skin. This ultra -light formula protects youthful skin. A remedy for dry, itchy skin, loss of elasticity, and uneven skin tone makes it a must for all ages. Fragrance free. $43 • 5.1 oz.
Firming Gel: A remedy for scars, stretch marks,loss of elasticity, and dehydrated and sagging skin, this anti-aging antioxidant hydrates and renews the vitality of the skin and the body. Fragrance free. $43 • 5.1 oz.
Contouring Gel: This exclusive shaping formula helps downgrade aging. A remedy for combating cellulite and sluggish lymphatic circulation makes it a must have to eliminate the spongy appearance of skin. Fragrance free. $43 • 5.1 oz.
Soothing Gel For Tired Legs And Feet: This exclusive essential oil formula contains a rich concentration of plant extracts to soothe swollen ankles, aging knees, and tired heavy legs. Stimulates circulation and helps reduce swelling. Perfect for use during pedicures and foot massage. $48
Self Tanning Lotion: Unscented lotion that develops a natural-looking warm bronze tan in under 2 hours without exposure to the sun—will not streak. Super moisturizing and antioxidant with jojoba, castor extracts,hyaluronic acid,Integral DNA and marine collagen. $48 • 3.4 oz.
PURIFANTE
For adult and teenage problem skin
AM-PM Cleansing Gel: This very gentle, non-irritating, non-foaming water-based gel removes make-up and clears the pores of dead cells and impurities without drying the skin. $33 • 8.5 oz.
AM-PM Purifying Toner: This very soothing astringent and non-drying toner reduces redness, tightens pores and calms down the skin. $33 • 8.5 oz.
AM-PM Moisturizing Gel: This water-based gel, lighter than a moisturizing cream is specifically formulated for shiny, oily, and combination skin. $37 • 8.5 oz.
Purifying Peeling: This very gentle peel helps reduce redness and irritation. The combination of exceptional anti-inflammatory, soothing and calming properties reveals bright, smooth and healthy new skin. $34 • 4.25 oz.
Purifying Mask: This refreshing and calming mask, tightens the pores and clarifies your complexion without dehydrating your skin. $34 • 8.5 oz.
AM-PM Purifying Gel: This light gel calms down redness and soothes very sensitive and irritated skin. $46 • 4.25 oz.
SP Gel: This highly concentrated gel, specifically designed to eliminate breakouts, calms down inflammation and irritation without stinging or burning the skin. $24 • 0.25 oz.
INTENSITÉ
With AHA's and vitamins for skin rejuvenation
Facial Cleanser with AHA's and Vitamins: Cleansing or eliminating make-up is essential. The synergy between its cleansing of impurities and toxins and its hydrating and regenerating powers, make the Facial Cleanser an integral part of your rejuvenating treatment. $32 • 3.4 oz.
Toner with AHA's and Vitamins: Toner encourages renewed cellular activity while complementing and completing the actions of the Facial Cleanser. $35 • 4.5 oz.
Glyco 5 Gel with AHA's and Vitamins: Glyco 5 encourages cellular oxygenation, compensates for the lack of nutrients, and increases the essential protection from free radicals. Your skin rediscovers its natural glow, clarity and energy. $42 • 1 oz.
Glyco 10 Gel with AHA's and Vitamins: This natural treatment stimulates cellular functions, delivers nutrients and oxygenation while it fortifies the skin's own natural abilities to protect itself. $50 • 1 oz.
Eye & Lip Emulsion with AHA's and Vitamins: These ingredients heal, nourish, soothe, and hydrate the delicate skin around the eyes and lips. $56 • 0.5 oz.
Vita C Serum with pure natural Vitamin C: Stimulates cellular renewal while hydrating, oxygenating and protecting your skin from free radicals. $41 • 0.25 oz.
Body Emulsion with AHA's and Vitamins: Acts upon cellular renewal and exercises protection and repair. Stimulated and renewed, your skin is more supple, firm and silky.$37 • 3.4 oz.
All products sold-in person at the spa or by mail order.
Cash, personal checks, Visa, and Mastercard are accepted.
Gift Certificates are available for all services and products.
All services, products, and prices are subject to change without notice.