Dr. Alkaitis Holistic and Organic Skin Food
Holistic and 100% Certified Organic and Live
Day Crème: Moisturizes, rejuvenates, heals, and acts as a holistic oxygen cream. This cream has natural SPF factors and will prevent, repair and heal sun damage. $70 • 1oz.
Night Crème: This organic oxygen and moisturizing cream will help restore the skin's natural translucence, making the pores appear smaller, and diminishes the appearance of fine lines and wrinkles. $70 • 1oz.
Herbal Eye Crème: A beautiful, soft and gentle cream that is never greasy and is easy to put on. It protects the skin from the damaging elements in our natural environment. Enjoy an immediate reduction of fine lines, uner-eye circles, and puffiness. $65 • 0.5 oz.
Purifying Facial Cleanser: Cleanses the skin gently, deeply and thoroughly. It removes old skin cells and leaves the skin moist, soft and refreshed. It also makes a terrific shaving gel. It should not be used as an eye make-up and/or mascara remover. $65 • 4 oz.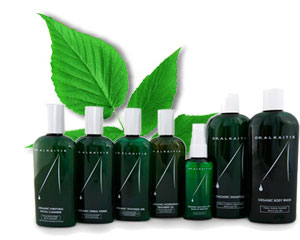 Herbal Astringent: Acts as an astringent, a toner, a skin balancer, an anti-inflammatory, and heals burns. It is excellent for after-sun treatment. It does not dry out the skin and can be used as a moisturizer for oily complexions. Also works beautifully as an eye make-up remover. $60 • 4 oz.
Herbal Body Oil: This body oil is truly amazing! It seals in moisture and absorbs quickly into the skin and has a heavenly smell. A must for after-bath, shower, and sauna. It makes an excellent massage oil and skin tonic, and also works beautifully as an eye make-up remover. $90 • 4 oz.
Herbal After Shave Gel: A moisturizing gel that leaves your skin soft and refreshed. This anti-bacterial tonic is perfect for sensitive just-shaved skin, and is excellent after waxing, electrolysis or any other hair removal procedure. It is also great for inflammatory conditions such as acne and eczema. $65 • 4 oz.
Flower Mask: Activating and energizing, it brings sallow, lifeless complexions to life. This is an active mask and is not recommended for use after peels and micro-dermabrasion or for very sensitive skin. $60 • 1.25 oz.
Universal Mask: Is the ultimate therapeutic health food for the skin and is excellent for use after peels, micro-dermabrasion, etc. It is the only mask that contains an animal product. Certified Organic Goat's Milk protein. $60 • 1.25 oz.
Cellular Repair Mask: This is an excellent mask for environmentally damaged and aging skin. One of its ingredients is Strawberries. If you're allergic to Strawberries, do not use this mask. $60 • 1.25 oz.
Enzyme Exfoliating Mask: Employs a broad range of enzymes and is an active and effective anti-aging mask. It rejuvenates the complexion by gently, yet thoroughly, removing all accumulated cellular and microbial debris from the skin. $60 • 1.25 oz.
Lip Balm: Your lips will never be the same again! It makes them soft, beautiful and inviting, and lasts for hours. It has a wonderful smell and tastes great! $35 • 0.25 oz.
Organic Body Wash: Made with vitamins, pure essential oils, organic medicinal herbs and Organic Castile Soap that has matured over six months. The blend and the quality of the organic ingredients ensures that the Herbal Castile Body Soap cleans gently yet thoroughly and lasciviously. $50 • 8 oz.
Shampoo: Formulated for normal, dry and oily hair. It stimulates skin functions, supports regeneration and stimulates the blood circulation to the skin and hair roots. $50  • 8 oz.
Travel Kit: Contains 8 wonderful skin care products. It is a perfect way to try almost the entire line of Dr. Alkaitis skin care products. And, of course, it is a great little travel kit that  lasts approximately 10 days with regular use. Kit contains: Creams for Day, Night and Eye, Herbal Astringent, Herbal Facial Cleanser, After Shave Gel, Body Oil, and one Mask.$55
All products sold-in person at the spa or by mail order.
Cash, personal checks, Visa, and Mastercard are accepted.
Gift Certificates are available for all services and products.
All services, products, and prices are subject to change without notice.