Holistic and 100% Organic and Live
Essential Custom-Blended Sacred Youth Serum (Monica's signature product): This highly popular and precious serum is intended for all skin types and addresses all issues of the skin. Each blend contains a combination of the following propriertary formulations: $95 • 1 oz.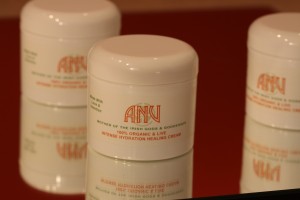 Integral DNA/RNA |  Cell Vital | Hydro-Oxy Complex | Anti-Sebum | Anti-Blotchy | Vitamin E Skin Lightening | Arnica | Copper Peptide | Alpha Lipoic Acid | Nuetri-Peptide | Actiflow – Eye | Polyflow – Eye
Anu "Mother of the Irish Gods & Goddesses" 100% Organic and Live Intense Hydration Healing Cream (Monica's miraculous formulation): Derived from an Irish herbal remedy nearly one thousand years old, this all-purpose anti-inflammatory face, hand and body moisturizer deeply nourishes and renews all types of skin, reduces redness associated with Rosacea, helps prevent and eliminate broken capillaries, and gently soothes and reviatalizes "summer skin". $50 • 2 oz. / $90 • 4 oz.